NEW TYPE UHF Kathrein panel Pol. H In 7/16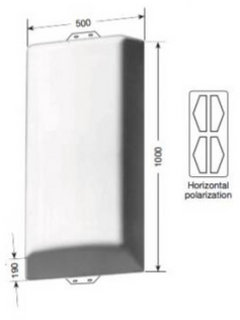 ** Directional Antenna 470 - 860 MHz
750 10210
Horizontally polarized broadband directional antenna made of aluminum and protected by a fiberglass cover.
Material:Reflector screen and dipoles: Weather-resistant aluminum.
Protective cover: Fiberglass.
Attachment plate: Hot-dip galvanized steel.
Attachment:Using M 8 x 35 screws (supplied) to suitable attachment construction. Mounting dimensions upon request.
Grounding:Via mounting parts.
Ice protection:dB
Ice protection: The dipoles remain fully functioning even in icy conditions as the fiberglass cover protects the whole antenna and also the antenna is of a very robust design.
Combinations:The antenna is particularly suitable for use in combinations in order to achieve various radiation patterns.
Scope of supply:The 7-16 female connector is supplied with a weather protection unit.
Product Code: 750 10210