Flex twists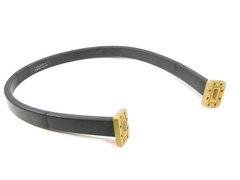 The value of a waveguide solution is in its performance - and its precision.
Your waveguide is a critical link in point-to-point and point-to-multipoint digital radio links so measuring the value of your waveguide's performance is the same thing as measuring the value of your network itself. When every RF microwave environment is unique, waveguide must deliver in its physical, electrical and environmental characteristics. Who can you trust for a waveguide solution that provides optimal value where it matters most in performance and precision?
The answer is CommScope with its FlexTwist® waveguide solution!
With more than 900 flexible waveguide configurations, CommScope FlexTwist waveguide components provide an optimum solution for virtually any application.
3.3-50.0 GHz frequency range
10 waveguide sizes
300-1200 mm (12-48 in) assembly lengths
Each FlexTwist waveguide component is engineered to provide exceptional low-loss electrical performance.
They are also designed for fast, accurate installation, even in the most challenging environments.
Downloads