Broadcast Antenna Systems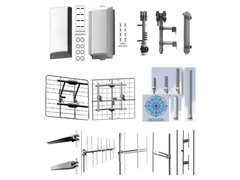 The realization of Antenna Systems for Radio and TV applications is absolutely one of our main cores.
Thanks to our internal Engineering Team, which includes some of the best designers in the market, we are a lead Designer and Manufacturer of complete Turnkey Systems. Our Antennas are among the most accurate, reliable and durable in the Market (we consider the average life of a System around 25-30 years).
The secret of our success in this field can be identified in the continue research and choice of the best components and materials in the market, in the accurate design and realization of the Antenna main supporting structure and in the capability of our Engineers to operate on all the main Software for Antenna Systems design, which are available in our Laboratories.
For all these reasons we can state that we have the total control of our Systems, being able to optimize them, to realize the signal coverage just as the Project requires: we manage our Antennas like real spotlights.