Measuring Components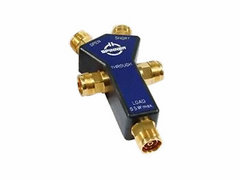 SPINNER has been optimizing infrastructure components for mobile communication applications since the advent of the mobilcom industry. As a technology leader in this field, we know that one of the most important and challenging goals is to achieve extremely low 3rd order intermodulation products.
Passive intermodulation (PIM) is a form of intermodulation caused by the (generally very small) nonlinearities present in all passive components. When two or more frequencies are applied simultaneously, new and typically unwanted frequencies are generated. If these frequencies are of sufficient power and fall into the frequency range of the receiving signal, they can significantly disturb the receivers of mobile base stations and negatively impact the quality of service.
Symptoms include reduced bandwidth and even dropped calls. Fixing the problem involves additional and often repeated investments for locating and replacing components with bad PIM behavior. At SPINNER we believe in avoiding these issues from the start.
SPINNER was the first vendor to recognize the potential risks of PIM, and has been warning customers of them since the early days of mobile communication systems. Current mobile networks based on different technologies utilize multiple frequency bands in parallel to maximize the use of available spectrum. However, this makes it more important than ever to minimize PIM. Today's carriers are aware of the impact that PIM has on the performance of their networks and insist that it be as low as possible.
SPINNER understands how PIM performance can affect the growth of cellular networks and for decades has been devoting a huge R&D effort to offer a comprehensive portfolio of low-PIM products. We also set extraordinarily high standards with our definition of "low PIM". Even most of our standard products such as connectors and jumpers feature a value of -160 dBc or better. Of course, while this is enough for many applications, some situation require even better performance. And accurately measuring PIM is one of the greatest challenges.
Measuring the PIM properties of a component or system requires a measuring environment of sufficiently higher precision than the device under test. When we discovered that no equipment was available with the high precision we wanted, we decided to develop our own.
Over the years, we have developed a large portfolio of specialized equipment with outstandingly low PIM for testing and measurement. Nothing comparable is available anywhere else. It includes self-aligning connectors, diplexers, rotary joints, loads, switch matrices, reference standards and more. We provide these products for hand-operated on-site testers and fully automated test systems in manufacturing environments to boost productivity while ensuring the highest standards of quality.
Downloads