Rigid Lines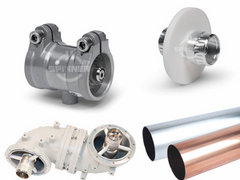 SPINNER supplies three types of rigid line systems: the EIA system, the SMS system and the flaring technique system (BT).
The indicated technical data are also valid for rigid line elbows, which perform significantly better than the values established by the relevant international standards. The proof voltage values refer to sea level.
EIA System
Coaxial flange connectors, generally known as "EIA flanges", are connected by a coupling element. The flange connector system complies with EIA STD RS-225, 339 IEC, DIN EN 122150 and MIL-F 24044. EIA flange connectors are excellently suited for pressurized systems and outdoor installations.
SMS System
The SPINNER quick clamping system, called "SMS", complies with international rigid line standards including EIA STD RS 225, 339 IEC and DIN EN 122150.
Its parts are connected by coupling elements and secured by clamps. The major advantage of the SMS system is that customers can easily cut the rigid line to length on site without the need for flaring or brazing.
Assembly is therefore very simple and requires no special tools.
The SMS system is only suitable for indoor use.
Flaring Technique System (BT)
The outer conductor tube is flared using a SPINNER flaring tool. Its parts are connected by coupling elements. The electrical contact at the outer conductor consists of a metallic ring mounted on the edge of the coupling elements' insulation disk. The resulting very stable connection ensures high RF tightness and a repeatable electrical length.
The 52-120 BT flaring technique system is intended for indoor use and designed to handle RF power at levels up to 860 MHz.
Please keep in mind that internal supports may be required, depending on the line length, to prevent the inner conductor from sagging.
Note:
For DVB or DAB operation, please note that the transmittable power is limited either by the proof voltage, taking the crest factor into account, or by the average power. When operating multiple transmitters, please base this on the sum of the individual proof voltages. The same thing applies to analog operating mode.
Downloads