Jumpers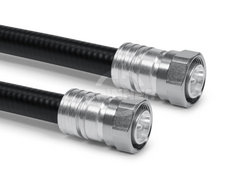 New frequency bands are becoming available for mobile communications almost yearly. Robust transmission capabilities are essential for making the most of capital expenditures for sites while minimizing the risk of reduced system performance and downtimes despite rapid growth in frequencies and data volumes.
Jumper, the Better Connection
It's a fact that jumpers are superior to manually assembled cables: they boast better electrical performance and reliability, in addition to costing less at the end of the day.
The big advantage of jumpers is that they are assembled in monitored, automated processes. The connectors are soldered onto the cable, resulting in better electrical and mechanical properties. For added security, they are electrically tested before leaving the factory.
Jumpers also save money. Manual assembly of cables calls for tools, apart from the time spent cutting them, mounting the connectors at both ends, and electrically testing the result.
This adds substantially to the already-high cost of materials.
Downloads