Loads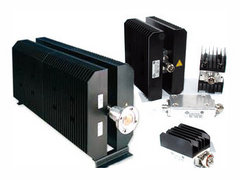 SPINNER supplies loads for various applications including:
Precision low-power loads for measurement and network analyzer calibration up to 67GHz
Low PIM loads for measurement
Medium-power loads for terminating ports and balancing channel and power combiners
High-power loads for testing transmitters up to 55kW
Different cooling types are available depending on the absorbed power and application:
Natural cooling for loads up to 2.5kW
Fan cooling for loads up to 5 kW
Liquid cooled loads with integrated or external coolers
SPINNER SmartLoads are equipped with an intelligent controller for the cooling to minimize noise and power consumption. The controller regulates pump and fan depending on the RF power applied, and also allows full power cooling from standby. SPINNER SmartLoads are available from 5 kW to 55 kW.
Please take environmental conditions and operating requirements into account when selecting a load.
The surface temperature of naturally cooled loads varies as a function of absorbed power and ambient temperature which is shown in power derating curves. When absorbing full power the surface temperature of naturally cooled loads can be 80° above ambient temperature. Please use a load with a larger heat sink, or forced cooling if this is not tolerable.
Downloads