Type 180: 1.8m Rx/Tx Class I Antenna System (1.8M Ext Ku Class I - 180)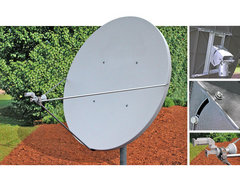 The Skyware Global 1.2m Rx/Tx Extended Ku-Band Class II Antenna is a rugged commercial grade product suitable for the most demanding applications.
The reflector is thermoset-molded for strength and surface accuracy. Molded into the rear of the reflector is a network of support ribs which strengthens the antenna and helps to sustain the necessary parabolic shape.
The reflector optics feature a long focal length for excellent cross-pol performance.
The heavy gauge steel Az/El mount secures the antenna to any 73-76 mm (2.88"-3.00") mast and prevents slippage in high winds.
A special powder paint process offers excellent protection from weather-related corrosion.
Codice Prodotto: 62-1806611
Datasheets