Antenna tipo 180: 1.8m Rx/Tx Class I (1.8M C Lineare Class I - 180)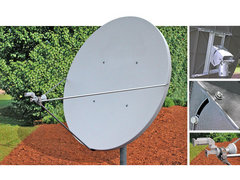 The Skyware Global Type 183 1.8m Class III RxTx Antenna is a rugged commercial grade product suitable for the most demanding applications. The reflector is thermoset-molded for strength and surface accuracy. Molded into the rear of the reflector is a network of support ribs which not only strengthens the antenna, but also helps to sustain the critical parabolic shape necessary for transmit performance.
The Az/El mount is constructed from heavy-gauge steel to provide a rigid support to the reflector and feed support arm. Heavy-duty lockdown bolts secure the mount to any 114 mm (4.50") O.D. mast and prevent slippage in high winds.
Hot-dip galvanizing is standard on this model for maximum environmental protection. A marinised version of this antenna is also available making it suitable for on-shore and offshore marine enviroments.
HD Galvanised support arm and alignment struts. Marinised version has all galvanized steel components finished with 2 part epoxy paint.
Plated hardware for maximum corrosion resistance. Optional marinised version uses marine grade AISI 316 stainless steel hardware throughout.
Includes C-band linear cross-polarized RxTx feed assembly.
Heavy-duty Class III mount for 11 kg (25 lb) RF electronics (LNB & BUC).
Codice Prodotto: 62-1803711 / 62-1803211
Datasheets